This is a long standing argument. Which is better? To eat meat or to not eat meat, that is the question. It is often an issue for people who have a group of friends with mixed dietary restrictions to find a place that they can all eat comfortably. This can make things very tough for the limited eater. But the days of having to choose are now gone! We have found the perfect food to make both groups very happy! You guessed it, its Pizza!

Veggies Are a Staple
Pizza, what makes it great is what is on it! And the great thing about pizza is that you can choose exactly what is on your pizza! At Odd Moe's pizza we have so many toppings to choose from. All of our veggies will warm the heart of every vegetarian and vegan around! Some of our vegetarian and vegan toppings include mushrooms, green onions, red onions, green peppers, Fresh tomatoes, spinach, artichoke hearts, pineapple, olives, garlic, peppers, ect. That is a good variety if you ask us! We also have a vegan pizza called The Natural, it has Vegan Sausage, Red Onions, Spinach, Fresh Garlic, Fresh Tomatoes, and Vegan Mozzarella. This is the perfect pizza for your vegan friends! We also have an alternative Gluten Free pizza crust if someone has gluten sensitivity! All the Veggies we have to offer is one great reason why pizza is a game-changer in the Vegetarians vs. Carnivores restaurant debate.

Meaty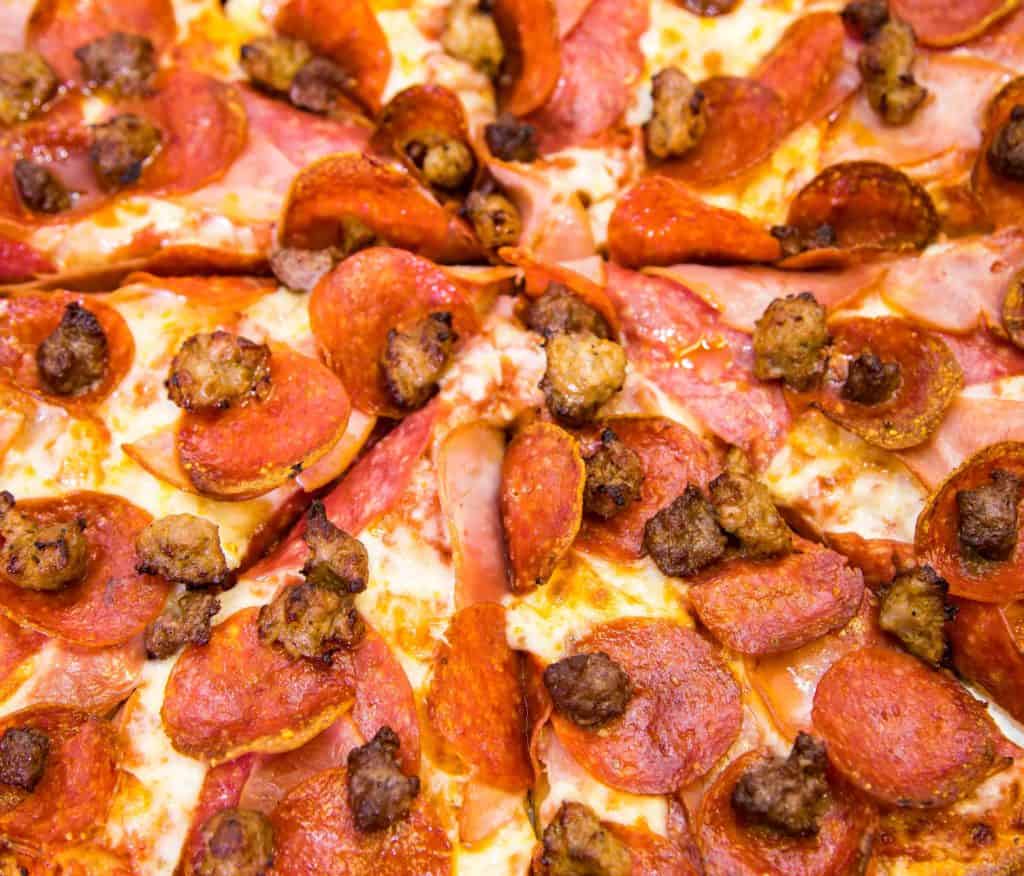 Are you a total meat lover? If the answer is yes then pizza is a great option for you! I mean really a pizza pie is like bread that holds your meat for you! Plus, you can eat it with your hands. Meat on pizza is great, you can mix it with veggies or you can just have meat only on the pizza! There are so many meat options a Odd Moe's Pizza, some of the pizza options include the typical pepperoni, salami, Canadian bacon, Italian sausage, but we also have bacon, ground beef, diced chicken, and even anchovies still!
If you are a meat lover then you might like extra cheese too! If you are committed to helping your vegetarian and vegan friends have good options for their diet then choosing pizza for your group meal is a great option!

Split
One of the great things about pizza is that you can do half-and-half. If you just want to get one pizza, say for you and a friend or two, then splitting a pizza is a great option. That way you can each have what you want! Meat on one side and Veggies on the other! This makes meal buying super easy for a small group of people with different dietary restrictions!

There is always going to be an ethical debate between carnivores and vegetarians but if you can put that aside and have a great meal together then pizza might be a great choice! If you are a vegetarian, a vegan, or a carnivore then we have a perfect pizza here for you at Odd Moe's Pizza. We also offer a variety of appetizers, salads, beers, and dessert! For the perfect pizza get together call Odd Moe's Pizza!